PDX Bodysong Hot Stone & Massage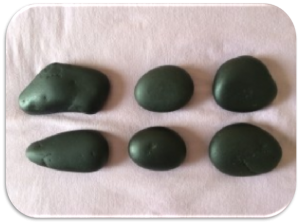 SIX BOLD, BEAUTIFUL BASALT STONES, wild-gathered from the Oregon Coast will warm your skin and muscles with deep, radiant heat. They are so smooth, many people ask if I'm using hot oil! They are always just the right temperature because I use them as massage tools held in my hands.
Hot stones provide a wonderful way to warm up the muscles and to also focus in on a muscle or area of tightness with soothing, relaxing heat. This treatment plus the table warmer makes for a warm and deeply relaxing massage.
Please call or text to schedule – 503-754-1617