PDX Bodysong Ashiatsu Massage
'Ashi' means foot and 'atsu' means pressure.
To receive Ashiatsu feels like receiving a broad,
deep, luxurious, Swedish massage.
Holding bars above the table, the therapist uses
their feet and is able to apply deep, even pressure
via body weight and gravity. This manner of working
allows the therapist to work deep with less effort
and better body mechanics. The bars above also work
as a stabilizing tool and a great way to monitor how
much pressure is being applied. Good communication is
important for both giver and receiver.
The benefits of Ashiatsu include:
*Deep Tissue without discomfort
*Reduces chronic pain
*Releases mental and emotional stress
*Improves blood pressure
*Breaks up scar tissue
*Releases bundled nerves
*Stretches the spine
*Improves body posture
*Boosts Immunity
*Promotes feelings of well being
An Ashiatsu session also brings the added benefits of improved circulation and flushing for the whole muscle and muscle groups. As with Swedish, I use creme or oil applied to the skin. Please advise me of any allergies you may have.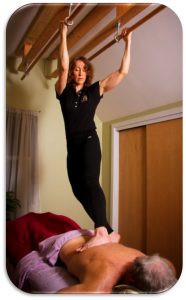 This modality is not for everyone. Here is a list of conditions that are contraindicated for Ashiatsu::
*Pregnancy
*Surgery within last 3 months
*Diabetic Neuropathies
*Breast Implants
During your session, we communicate with a scale of pressure from 1-10. This can vary slightly form person to person, but generally 6-7-8 feels the best for most people. The warm-up or the first strokes, usually feel/rate between 3-6 while a 9 or 10 means too much pressure.
Adding Hot Stones with Ashiatsu gives you a comfortable, relaxing heat that melts your muscles in preparation for deeper work and recovery.
Please call or text to schedule – 503-754-1617